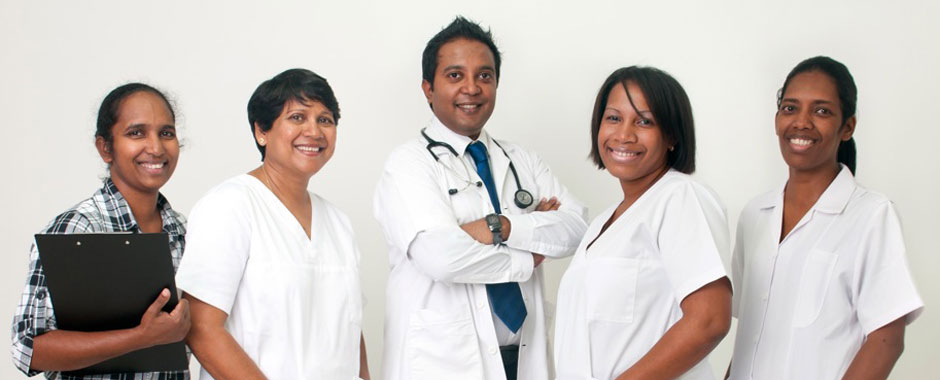 The objective of the Diabetes Management Programme (DMP) is to provide all round care for people with diabetes. It aims to offer the patient a means to improving their diabetes control thanks to the close monitoring of a team of health professionals following them closely.
The DMP consists of a year of individualised monitoring.  The all-inclusive care offered helps patients to improve their lifestyle and blood sugar control.  It also gives them effective strategies for preventing the complications associated with this disease – blindness, renal failure, amputation, and cardiovascular problems – and improve their quality of life.
The one-year individual monitoring includes
Consultations with:
A doctor specialising in the care of diabetic patients
A nurse specialising in the care of diabetic patients
A dietician
A chiropodist
An ophthalmologist
Therapeutic educational sessions
Comprehensive laboratory testing (HbA1c, blood sugar level, cholesterol and triglycerides, microalbuminuria, potassium and other necessary tests)
Uniqueness of the Diabetes Management Programme
Patient's computerized medical file accessible to all members of health care team
Coordination of treatment and planning of appointments ensures optimal care
Regular assessments made of quality of care patient is receiving
Report of monitoring issued to patient
Ongoing training given to health professionals on team
Benefits of the Diabetes Management Programme
Maintains blood sugar control
Reduces complications linked to poorly controlled diabetes
Decreases need for hospitalisation
Improves quality of life
Lessens absenteeism
Blood sugar control = prevention of complications
A study carried out in the UK (UKPDS) showed that the complications linked to diabetes can be prevented or slowed down by the control of blood sugar levels (reduction of HbA1c)2. Research showed that improved blood sugar control reduced the risk of heart attack and death linked to diabetes.  According to the study, controlling diabetes effectively from the onset of the disease also reduces the risk of serious renal (nephropathy) and eye (retinopathy) complications.
1. UK Prospective Diabetes Study Group: (UKPDS 38). BMJ 317:703-713, 1998
2. Glycated haemoglobin (HbA1c) is a long-term measure of blood sugar. It is used to monitor the balance of blood sugar levels in diabetic patients.
This programme concerns you if:
You suffer from diabetes.
You are an employer and would like to sponsor those of your employees affected by diabetes.
How can you join the Diabetes Management Programme?
Contact us on 467 5858 or by e-mail at info@apsa.mu
---