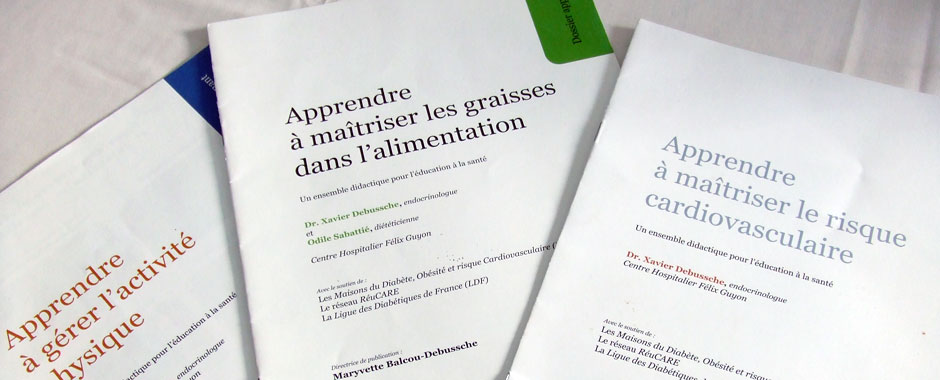 Community Health Care and Education Network
APSA International is implementing a "Community Health Care and Education Network" in collaboration with Dr Xavier Debussche and Mrs Maryvette Balcou Debussche from "Diabète au Logis", Reunion Island.
This project enables persons with diabetes/or people at the risk of developing diabetes and/or cardiovascular diseases to attend educational group sessions where they learn to adopt healthy life style behaviours by learning to :
Reduce Cardiovascular Risks
Control Fat Intake
Manage Physical Activities
The participant is able to better understand the risk factors, the disease, and the prevention of diabetes in order to have an active part in the management of his condition. In this approach the patient becomes a partner to the health care professionals.
The Specific Approach of the 'Learning Nests' ("Nids d'apprentissage")
It is not a course but a learning process.
The booklet uses colour coding for the low literacy groups and remains the property of the participants.
The participants choose actions that will decrease modifiable cardio vascular risk factors.
The participants take part in an initial annual cycle of 4 educational sessions, followed by one yearly session over the next 5 years.
Training of Educators
Three days of training of educators have been organised by APSA in January and May 2008. To this date, 25 health educators have been trained to lead group sessions using the various modules of 'nids d'apprentissage'. These training sessions have been lead by Dr Xavier Debussche, Endocrinologist & Diabetologist, Consultant in Prevention and Treatment of Chronic Diseases and Mrs Maryvette Balcou-Debussche, PhD in Social and Educational Sciences, Training Consultant.