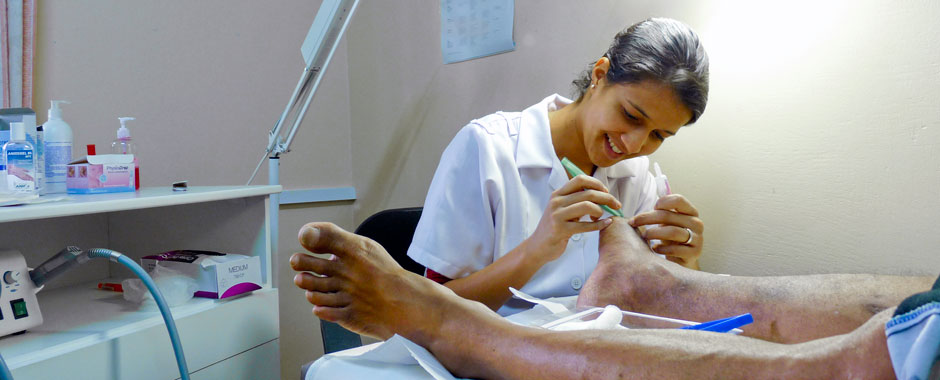 The objectives of the Foot Care Clinic are to provide:
Routine foot assessment to identify those at risk of ulceration
Education of patients in self management and foot hygiene
Foot care (such as callus, corns, nails trimming, etc.)
Wound care
Ongoing foot care are provided at APSA by 2 trained nurses under the guidance of a local podiatrist. APSA is regularly visited by Dr. Lynne Tudhope, a vascular surgeon with a special interest in the diabetic foot and chronic ulceration of the lower limb.
APSA's objective is to promote a multidisciplinary care team approach in order to bring excellence of care to the patient and help avoid the fatality of amputation. Since its opening in June 09, the APSA foot care team has been able to see more than 1,000 people with diabetes for foot assessments and care. 30 patients have received complete healing of their wounds.
In the World
85% of foot amputations are preceded by foot ulcers
40 to 70% of lower limb amputations are linked to diabetes
Every 30 seconds someone loses his leg because of diabetes W.H.O. (World Health Organization) and the IDF (International Diabetes Federation) state that 50% of foot amputations could be avoided through education, early foot assessment, and proper care.
In Mauritius
These sequelae of peripheral vascular disease and diabetic neuropathy lead to lower limbamputations. Latest statistics reveal about 400 amputations peryear.It costs an average of about Rs 50,000 to Rs 100,000 for each amputated limb depending on the duration of the hospital stay, and there is still no effective podiatrist service or any diabetic Foot Care Clinic locally.
Ministry of health and Quality of life, "The National Service Framework for Diabetes" (NSFD), A Ten Year Programme. Mauritius, March 2007.