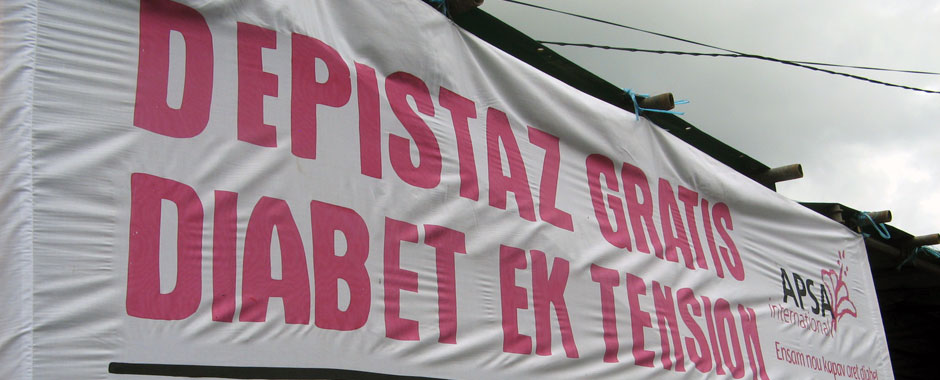 Early detection of risk factors during screening programs helps prevent the onset of diabetes and cardio vascular diseases. People are made aware about their health status and are encouraged to take the necessary health measures towards prevention.
Screening in the Private Sector
On request, a team of 10-12 nurses and health educators visit companies to measure the following:
BMI, Waist, Circumference, Blood Pressure and Random Capillary Blood Glucose of each employees.
Personalised advice and care are given.
A statistical report is then sent to the company and health cards presented to each employee.
Through the screening program, the employer contributes to the general welfare of his employees and improves his productivity.
APSA offers free follow-ups at our drop-in-centre in the form of personalised education sessions as well as free consultations with a dietician to those with diabetes and cardio vascular risk factors.
Since 2007, APSA worked with 30 companies and screened more than 2000 employees.
We just thought to thank you for the awareness and screening program done at the company. GREAT JOB with a GREAT TEAM! It is due to your awareness and screening that many staffs have now taken the initiative to do jogging after work, eat healthier food and are more concerned about their health. We will definitely make sure this is done yearly and with more tests attached to the program. KUDOS to APSA ! – Karuna Khoody, Financial Director, Kalija BPO Mauritius.
Screening in Public Places
Public Screening – Baie du Cap – 2008
APSA organised a free screening at the Community Center of Baie du Cap in partnership with the Sugar Industry Labour Welfare Fund (SILWF). This screening was part of the program to develop a "Health Care Education Network" in community health sponsored by the European Union through the Decentralised Corporation Programme (DCP).
"Journée Portes Ouvertes" – Curepipe – 2007 – more infos : World Diabetes Day 2007
"Journée Portes Ouvertes" – Curepipe – 2006 – more infos : World Diabetes Day 2006
Public Screening – Goodlands – 2005
A "Health Day" was conducted in the village of Goodlands, in April 2005, during which 4 nurses, 8 diabetic educators and 5 assistants provided the following:
Capillary Blood glucose testing
Individuals' blood pressure and body mass index (BMI)
Health education covering nutrition, exercise, diabetes management, and foot care.
The total number of individuals screened was 534, of which 22% (117 individuals) were diagnosed as diabetics, and 5% (27 individuals) were found to have an elevated blood glucose level.
Public Screening – Mahebourg – 2004
A "Health Day" was conducted in the town of Mahebourg in July 2004, during which a team of 6 diabetes educators and 2 assistants carried out a screening campaign. 700 people had their capillary blood sugar level tested, and among this number 43% of individuals (6%) were found to have an elevated blood glucose level. They were then referred to their local doctor for further tests regarding their potential for diabetes & associated disorders. We also tested 103 known diabetics and took care to encourage them and educate them on controlling their condition through adopting a healthier lifestyle.